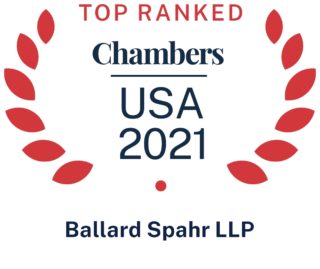 We are pleased to announce that Ballard Spahr's Consumer Financial Services Group has once again received the highest national ranking from Chambers USA: America's Leading Lawyers for Business.  The Group was ranked in the highest tier nationally in Compliance and Litigation, the two categories previously used by Chambers USA for Financial Services Regulation: Consumer Finance.  This year, Chambers USA added Enforcement & Investigations as a new category for Financial Services Regulation: Consumer Finance.  We are proud to report that the Group also received the highest national ranking in this new third category.
Our firm is one of only two firms to be ranked in the highest tier nationally in all three categories and the only full-service firm to receive the highest ranking in all three categories.  Lawyers in our CFS Group collectively received more individual rankings than lawyers in any other firm that was ranked under Financial Services Regulation: Consumer Finance.  These rankings demonstrate the strength of our CFS practice, with more than 80 lawyers across the country.  Our CFS Group has been ranked in Band One every year since Chambers USA introduced a national category for consumer finance.  The rankings are largely based on client feedback and peer review.
Released last week, the Chambers USA report praised the Group's skill in supporting clients at both the state and federal regulatory levels.  According to the report, the Group is noted for its work with banks and non-banks on the full range of consumer finance regulatory matters, including credit cards, mortgage, and auto finance issues.  Chambers USA also noted the Group's expertise in the areas of fintech, e-commerce, and prepaid cards and its ability to provide robust representation of clients in in CFPB enforcement actions, arbitrations and litigation.
The 2021 edition quotes our clients who have said that the Group "is without a doubt an industry-leading consumer finance team" and "one of the top firms in the consumer finance space in terms of responsiveness and the practical nature of their advice."
Seven individual lawyers from our CFS Group were recognized for excellence by Chambers USA.  In addition to CFS Group Co-Chairs Chris Willis and Mark Furletti, CFS Group members Alan Kaplinsky, Rich Andreano, John Culhane, Jeremy Rosenblum, and James Kim were also individually ranked.
We are proud of the work we do, and very grateful to our clients for entrusting us to help them develop new products, defend them in private litigation and against enforcement actions, and assist them in navigating the increasingly complex array of federal and state regulations.